The agriculture program at Salmon River Central School District received an award from the New York State School Boards Association last week for its successful Seed-to-Tray Initiative.
Wayne Rogers, area six director for the New York State School Boards Association, attended the Salmon River Board of Education meeting on Nov. 8 to present the Champions of Change award. The honor highlights schools for initiatives that bring about positive, meaningful change to students, communities and districts across the state, according to NYSSBA.
Michelle Oakes, FFA advisor and agriculture teacher at Salmon River, accepted the award on behalf of the agriculture program.
"The need for agricultural programming is still very much recognized and needed in our school community," said Oakes. "These students who participate in my program are given the opportunity to demonstrate their interests and, in some cases, bring their knowledge of agriculture and their way of life into the classroom."
The initiative provides students with the opportunity to learn how growing food works, from seed to harvest. Most of the produce is then given to the cafeteria to serve to students.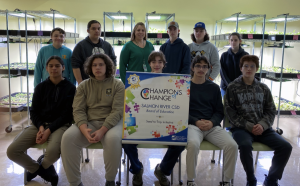 "This year, we already have plans in place to expand the Seed-to-Tray Initiative from 10 indoor growing racks of lettuce and small herbs to a 20×24 greenhouse," said Oakes. "The greenhouse will be used to expand the variety of vegetables provided to our cafeterias and continue to assist our students in learning the practices of sustainable agriculture and growing our own food."
The Creating Healthy Schools & Communities (CHSC) grant through North Country Healthy Heart Network, based out of Saranac Lake, has funded the Seed-to-Tray Initiative at Salmon River for the past few years.
"We are very appreciative of the support we have received from North Country Healthy Heart Network," Oakes said.
There is hope that one day this program may be absorbed into a full agricultural academic program at Salmon River, offering multiple pathways for students aligned to agriculture, food and natural resources.
"My students and I feel supported in our efforts to revive the agriculture program at Salmon River once again!"