On Thursday, Aug. 24, the Salmon River Central School District held its first ever Back-to-School Community Event at Thomas C. Cavanaugh Arena.
Dozens of students and their families attended the event, picking up free school supplies, free clothing, information about a variety of community resources and free lunch. Other giveaways and prizes were offered up to attendees, too.
The event was planned in an effort to help prepare families for the school year ahead. The event was essentially a one-stop shop for all things students and families needed prior to the first day of school on Thursday, Sept. 7.
The Salmon River Central School District would like to thank the following donors for providing prizes and giveaway items to our district community:
St. Regis Mohawk Tribe Mental Health Department
Twinleaf
E&J Party Rental
Phil & Becky Showen of Smith Lumber
East End Convenience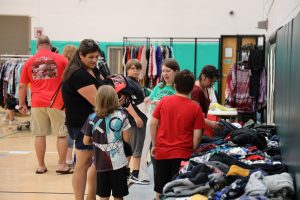 In addition, the district would like to thank the following organizations for participating in this first ever event:
St. Regis Mohawk Tribe Mental Health Department
St. Regis Mohawk Tribe Youth Services
St. Regis Mohawk Tribe Alcohol and Chemical Dependency Program (ACDP)
North Country Science and Technology Entry Program (NCSTEP)
Citizen Advocates
Maximizing Independent Living Choices (MILC)
Cornell Cooperative Extension – SNAP Education Program